Views: 620, Date:11/Jun/2016
Euro 2016: England fans in fresh clashes with police
Police in Marseille have deployed tear gas for a second evening to disperse England fans gathered ahead of the Euro 2016 football championships.
Officers in riot gear clashed with fans who threw bottles at police in the streets of the Old Port district.
BBC 5 live sports presenter George Riley said a group of England fans had appeared to be goading either the police or locals in the area.
France won the opening match in the tournament beating Romania 2-1.
The fresh clashes in Marseille began outside a pub in the same area that had been affected by trouble on Thursday and continued well into the night.
One England fan and one local man were arrested in the early hours of Friday after police had moved in with tear gas.
George Riley said the group he had seen gathering on Friday evening appeared "quite menacing", which prompted the 5 live team to leave.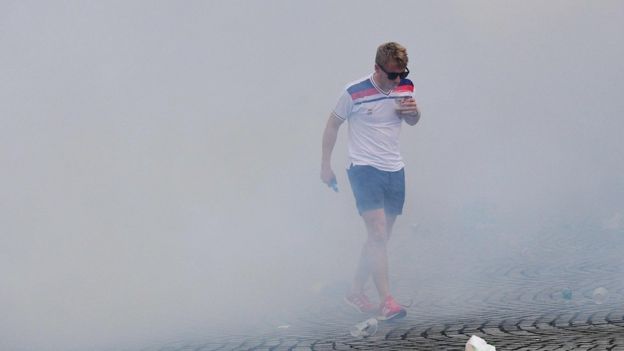 Tear gas was deployed by police for a second day
BBC Newsnight producer Alex Campbell, who is also at the scene, tweeted: "Most England fans here are simply drunk and singing. But the glass bottles aimed at police are becoming more regular."
He later added: "Police just took their moment to charge England fans, who have now been pushed back. Some into a side road."
BBC Newsbeat presenter Ben Mundy said police had earlier told bars in the Old Port area to stop serving English fans beer because they were singing loudly.
This had antagonised them and made them more aggressive, he said.
Police injured
On Thursday four French policemen were injured as they moved in on England fans, the news website France Bleu reported. Many of the fans had been drunk, it said.
After the tear gas was released, the police restored calm to the area at about 02:30 local time.
There had been no damage to local property, they said.
English fans are in Marseille ahead of England's game with Russia on Saturday.
Source: bbc.com